Blogs
Commentaries from the NetSpeed Fast Tracks team
Latest Posts
Wednesday, March 20, 2013
Oh dear, I just blogged, last week, about 10 personas to running a successful brainstorming session. Now I must post the possibility of brainstorming being the enemy of innovation, a strong reason we brainstorm, right? To innovate?
Hmmm..I suppose it's good to have research on both sides. With this article, Why brainstorming doesn't always work, by Wayne Turmel, we learn that it could just be the whole brainstorming concept itself.
When Wayne spoke with Deborah Loosemore, from Powernoodle, he received some feedback for three thought provoking questions.
What are some of the human dynamics that get in the way of successful brainstorming?
What can a good leader do to mitigate some of these problems?
How can software or technology help (or hinder) the process to get better results?
To find out the answers, read the article. Is it time to think a little differently when it comes to brainstorming?

Posted by Lisa Gallo at 4:05 pm
Labels: brainstorming lisa gallo
---
Wednesday, March 13, 2013
I subscribe to a few industry email newsletters. They are great resources for posting content with weight, as well as spurring a blog post or two.
I love brainstorming sessions. When I came across the article The 10 Personas of a Good Brainstorm Facilitator, by Mitch Ditkoff, I knew it was something I wanted to keep in my bag of tricks, as well as share with our NetSpeed Learning Solutions blog readers.
What are the 10 personas, you ask?
CONDUCTOR
ALCHEMIST
DANCER
MAD SCIENTIST
DIAMOND CUTTER
ACTOR
ENVIRONMENTALIST
OFFICER OF THE LAW
SERVANT
STAND-UP COMIC
Intrigued by those titles, read the full article to learn more about them and target your strengths and weaknesses.

Posted by Lisa Gallo at 4:04 pm
Labels: brainstorming lisa gallo
---
Wednesday, February 27, 2013
Ha! I love the thought of top-down leadership shifting. Our leadership modules, here at NetSpeed Learning Solutions, all support the teamwork, collaboration style of leading. Read here to get the full scoop on Doreen Lorenzo's secrets of growth article, titled Are we living in a post-CEO world?

Posted by Lisa Gallo at 4:01 pm
Labels: are we living in a post-ceo world? doreen lorenzo leadership lisa gallo
---
Wednesday, February 13, 2013
I do.

I'm the Client Services Manager here at NetSpeed Learning Solutions. One of my main responsibilities is making sure our customers are happy. I'm happy to report that our customers feel I do my job well.
If you're looking to up your customer service skills, here are 8 easy ways to make it happen.
In Service and mustache~ Lisa

Posted by Lisa Gallo at 3:50 pm
Labels: customer service lisa gallo
---
Wednesday, January 16, 2013
I recently was working on some course material for one of our clients. The material is taken from our NetSpeed Leadership Module: Creating an Inspiring Work Culture. This module gives me a warm fuzzy and reminds me that I am charged by collaboration. We have a Podspot that supports this module. It's called Why Do You Exist?
This short read/listen talks about collaborating as a team to create that statement of purpose or mission. This Podspot suggests asking these four questions as a possibility to get the result you are desiring.
1. What is the role we play in our organization?
2. What are our key products and/or services?
3. What do we want our customers to say about us? In other words, what do we want our brand or reputation to be?
4. What would this organization be missing without us?
Have each person answer these questions for him or herself, and then share them with the group. Then, together, craft a simple statement that speaks to why you are all there.
In the end, this statement exists as a ready reminder about why you and your people do what you do there at work. Make sure it matters—to each of you.
We here at NetSpeed Learning have a semi annual retreat in our near future. I wondering if we will be doing something like this to help us understand, why do we (NetSpeed) exist.

Posted by Lisa Gallo at 3:43 pm
Labels: leadership lisa gallo work culture
---
Tuesday, January 8, 2013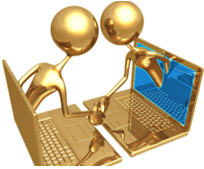 Every New Year one of the most popular topics you read about in business publications is CHANGE – the need for it, how companies are adapting to changes in the competitive landscape, changing demographics of customers, and why some organizations seem to be more adept at managing change than others.
I used to work for a dotcom company in which the only constant was change (although not always for the better – they went belly up after just five years). That company had a ritual re-organization every other month, and the product focus of the company seemed to shift on a quarterly basis. The company even changed its name three times over four years. This month, T & D Magazine features an interesting discussion by Peter Garber on the benefits of embracing change in an article titled Managing Change at Work.
Our own company has experienced a dramatic shift in its business over the past three years as an increasing percentage of our clients have shifted from face-to-face training to the virtual classroom. And more and more companies are starting to explore how to incorporate recent strides in equipment and communications technology to make their training available to the mobile learner on tablets and smart phones.
As a result of this shift from traditional classroom-based learning to virtual learning, our business has had to make adjustments in how we serve the changing needs of our customers. We now offer all of our training programs, in leadership development, customer service skills and interpersonal effectiveness, tailored specifically for virtual delivery. And for the past four years we have delivered public and private Virtual Facilitator Trainer Certification courses to help trainers make the leap from the face-to-face classroom to the virtual classroom.
We now offer a free eBook that provides trainers with practical techniques for making this transition called From Chalkboard to Keyboard: Transitioning to the Virtual Classroom, by our president, Cynthia Clay. In the past three months alone, more than one thousand training professionals have downloaded Ms. Clay's eBook.
About the only thing I am quite certain about for 2013 is that to move forward and prosper, individuals and organizations need to not only adapt to change, they need to embrace it and champion it. All of us at NetSpeed Learning Solutions wish for you a successful 2013, and one filled with positive changes and new opportunities.

Posted by Tim Jones at 3:16 pm
Labels: virtual learning
---
Wednesday, January 2, 2013
Not too long ago I was asked to write an article for Resonant Insights. Resonant Insights is more than a consulting firm:- it is a movement focused on evoking passion and purpose in the workplace. Founder, Bobby Bakshi, came through our Virtual Facilitator Training Certification course while Resonant Insights was being birthed. Mr. Bakshi designed a 7-Step process to help overcome any challenge. The seven steps are:
Your Intention
Your Choice
Your Commitment
Your Work
Your Power
Your Integration
Your Gift
He is such a delight to work with, how could I say no? The article I wrote actual is the follow-up to the spot light article my boss,
Cynthia Clay
, wrote for Step 3 (Commitment) of the 7-step module. To read her article, click
here
.
I think my follow-up will be in the Resonant Insights e-newsletter. You can read my article below. It was a pleasure to share how my commitment with
NetSpeed Learning Solutions
holds high, healthy, happy value in my life.
I'm the Client Services Manager for NetSpeed Learning Solutions and my primary purpose is ensuring that we meet the needs of our customers with a high level of personal attention. For our virtual training courses, I coach trainers on how to shine in front of the camera, using our "glows and grows" model of giving feedback. I bring my performing arts and education background to helping them develop their web delivery skills.
One of my values is "feeling valued." I love being an active team player and participating in thoughtful give and take with our clients and coworkers. I also love the process of visioning what we're trying to create in our workplace. One of my passions is sustainability and I bring that awareness to our office: we recycle, reduce our reliance on paper, save electricity, and this year we signed up for the city's composting program. I appreciate that I work in a safe, supportive place where I am encouraged and able to stay balanced. Quality of life is very important to me.
My values are well-aligned with NetSpeed Learning Solutions' values: Integrity, Creativity, Respect, Learning and Growth, Collaboration and Teamwork, and Balance.

Posted by Lisa Gallo at 3:24 pm
Labels: bobby bakshi cynthia clay lisa gallo workplace relationships
---
<! -- contentContainer -->