Blogs
Commentaries from the NetSpeed Fast Tracks team
Blog post
Tuesday, January 8, 2013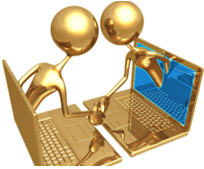 Every New Year one of the most popular topics you read about in business publications is CHANGE – the need for it, how companies are adapting to changes in the competitive landscape, changing demographics of customers, and why some organizations seem to be more adept at managing change than others.
I used to work for a dotcom company in which the only constant was change (although not always for the better – they went belly up after just five years). That company had a ritual re-organization every other month, and the product focus of the company seemed to shift on a quarterly basis. The company even changed its name three times over four years. This month, T & D Magazine features an interesting discussion by Peter Garber on the benefits of embracing change in an article titled Managing Change at Work.
Our own company has experienced a dramatic shift in its business over the past three years as an increasing percentage of our clients have shifted from face-to-face training to the virtual classroom. And more and more companies are starting to explore how to incorporate recent strides in equipment and communications technology to make their training available to the mobile learner on tablets and smart phones.
As a result of this shift from traditional classroom-based learning to virtual learning, our business has had to make adjustments in how we serve the changing needs of our customers. We now offer all of our training programs, in leadership development, customer service skills and interpersonal effectiveness, tailored specifically for virtual delivery. And for the past four years we have delivered public and private Virtual Facilitator Trainer Certification courses to help trainers make the leap from the face-to-face classroom to the virtual classroom.
We now offer a free eBook that provides trainers with practical techniques for making this transition called From Chalkboard to Keyboard: Transitioning to the Virtual Classroom, by our president, Cynthia Clay. In the past three months alone, more than one thousand training professionals have downloaded Ms. Clay's eBook.
About the only thing I am quite certain about for 2013 is that to move forward and prosper, individuals and organizations need to not only adapt to change, they need to embrace it and champion it. All of us at NetSpeed Learning Solutions wish for you a successful 2013, and one filled with positive changes and new opportunities.

Posted by Tim Jones at 3:16 pm
Labels: virtual learning
---
<! -- contentContainer -->