Blogs
Commentaries from the NetSpeed Fast Tracks team
Blog post
Tuesday, November 27, 2012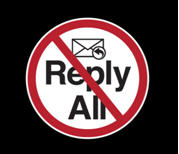 Do you ever receive REPLY ALL emails with 15 people on the thread and it seems like every person does a REPLY ALL to every response? Before you know it, your email inbox is filling up with emails like this:
[From Samuel]: I want to thank all of you on this list for an awesome job this week. A total team effort. Way to go, everybody!
[From Karen]: You got that right. Way to go, everybody.
[From Sidney]: Right back at you. Kudos to all of us.
[From Barry]: We rock. We rock!
[From Mason]: Yes, we do. WooHoo, everybody!!!
[From Carla]: Got that right! Let's celebrate. How about a pizza party?
[From Ned]: Pizza? I just had pizza yesterday. How about BBQ?
[From Tony]: I know a great BBQ place. Anybody ever tried Sherm's BBQ in Belltown?
And on and on and on – with each reply being sent to all 15 people on the "To" line. By some estimates, the average employee spends 15 – 25% of their workday reading and responding to email. (In my case, it's often well over 50%.) Increasingly, companies are realizing that REPLY ALL emails can be enormous time sucks of team productivity.
For the moment, I won't even bother discussing other pitfalls associated with REPLY ALL emails – like the embarrassing and egregious faux pas I once made years ago when I accidentally hit REPLY ALL when I meant to hit REPLY and in the process accidentally shared some deep frustrations I had working with one of the unintended recipients of my reply all email.
In a recent article for Bloomberg Businessweek titled Eradicating 'Reply All', Mike Rosenwald talks about the serious impact REPLY ALL emails can have on employee productivity. He cites studies that estimate the amount of lost time and productivity resulting from people reading and replying to non-essential REPLY ALL emails can add up to thousands of employee hours per year – and millions of dollars in lost productivity. Some organizations have even tried to have the REPLY ALL feature removed from their employees' email programs. Microsoft now offers a plug-in feature called NoReplyAll by which a sender of an email can prevent recipients from doing a REPLY ALL response.
Companies are constantly looking for ways to eliminate waste and lost productivity. One way is preventing employees from being able to send mindless, low-value REPLY ALL responses that take can sometimes take on a life of their own and pull countless people away from more important activities (like updating their Facebook status). If you agree with me that we all need to cut way back on our use of REPLY ALL in our emails, let me know your thoughts. But if you forward this article in an email to a large number of people, kindly ask them to take me off their cc list if they chose to do a REPLY ALL. Thanks.

Posted by Tim Jones at 8:10 pm
Labels: email
---
<! -- contentContainer -->