Featured Book
The Training Physical: Diagnose, Treat and Cure Your Training Department
Ultimately, every organization should be reviewing the condition of every department that participates in the workings of their business. The Training Physical is all about evaluating the condition of the training department (Diagnose), recommending action plans (Treatment) and making training responsive (Cure) to the needs of the company. Learn more about The Training Physical at: www.thetrainingphysical.com.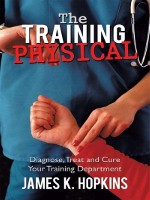 ---
Jim Hopkins

In 1990, Jim Hopkins made the leap from a 12 year retail banking career to the role of a Trainer/Facilitator. From there he progressed to an Instructional Designer, Performance Consultant, Training Manager, Director and then, Chief Learning Officer. Yet, after all this, he's still a trainer at heart.
While leading training functions, Jim has orchestrated large-scale initiatives focusing on business objectives, and with the precision of a conductor allowed teams of training professionals to express their full capabilities. A devotee of Servant Leadership, Jim insists that his role is always to remove barriers to success, and allow people to become empowered.
While leadership development remains one of Jim's primary passions, it was before the writing of his book even began that it occurred to him that his entire life seemed devoted to fixing things. He prides himself on identifying issues early, analyzing them, and then being as proactive as humanly possible to make things right.
Contact Information:
jim@jkhopkinsconsulting.com
(562) 943-5776
www.jkhopkinsconsulting.com
Knol
The Cure for Your Training Department
Have you ever noticed a particular training project showing up each year as the top priority, and it looks like last year's training program, and maybe even the one from the year before that? When training priorities don't change from year to year, but they remain on the project list of the training plan it speaks volumes. It tells us that these are still vital skills that our employees need to acquire, and that for one reason or another, we have still not implemented the training.
Blame for this lack of implementation will often be placed squarely on the shoulders of the internal training department. When this happens, you know it is time to review the health of the training function. If training is unable to perform the top priorities of the organization continually, then something is not working properly or it could be several areas that need fixing.
I firmly believe that for a training department to provide a return on the investment being made in salaries, systems, equipment, facilities and program costs it must be able to perform the functions of each role in training. When competencies are in alignment with industry norms, training can function as the strategic partner it is meant to play in the organization. However, when a trainer is unable to facilitate a workshop or webinar well, a designer creates a course without regard to learning objectives, or the training manager is running a completely reactive department without a training plan, then no one wins and everyone loses!
Let me share a quick story.
Update your browser or install Flash to see this player.
A training function should undergo an annual audit to diagnose the current health of all of its personnel, processes, systems, and programs. Too often when an organization is losing money or wants to cut costs, the training department is the first to go. Although I never believe that an organization benefits from losing the training function, I have supported some training departments being closed for gross ineffectiveness. The key is not to throw the baby out with the bath water.
In a sense, an annual training audit is like an annual physical. It includes a Diagnosis of any problems, Treatment and finally, if all goes well, a Cure. Interestingly, what I have found is that when it comes to the cure, people have more excuses for delaying the fixing of the training department than Carter has pills, which is often why key initiatives remain on the priority list year after year. Yet the longer an organization delays curing the issues found in their training function, the longer the organization will take to improve in every area where humans are functioning.
In today's economy, organizations cannot afford to waste money in any area of their operation. The training function if running in a healthy state can actually become a very indispensable part of a company's strategic plan. When the training department is unhealthy it is almost like having a virus that is trying to defeat your success. Many of us when we were young experienced this same dilemma with tonsils that quit functioning correctly and needed to be removed so we could get healthy again.
To avoid needing to remove your training function because it is unhealthy and acting more like an operational virus, take the steps to Diagnose, Treat and then Cure Your Training Department. Get Healthy and then Stay Healthy!
---
© 2010 Jim Hopkins
Labels: success factors work challenges
<! -- contentContainer -->