Featured Book
Lean Communications
Lean Communications: The 5-Step System for Doing More With Less and Getting Great Results is designed to provide you an overview of LEAN Communications as well as helpful tips, tricks and tools.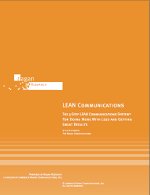 ---
Liz Guthridge

Liz Guthridge of Connect Consulting Group works with department leaders of Fortune 1000 companies to get employees on board with change. As a consultant, author and trainer, she helps leaders communicate clearly and credibly to get employees—especially those who are confused, angry, or in denial—involved and committed to action. As a result, employees accept the change with renewed energy and optimism. And leaders achieve their goals without the drama, delays, and distress so often associated with change. Liz's work is built on LEAN COMMUNICATIONS® practices and principles, which is the art and science of doing more with less to improve business results and build greater trust.
Contact Information:
liz.guthridge@connectconsultinggroup.com
510.527.1213
http://connectconsultinggroup.com
Knol
7 Simple Ways to Improve Your Meetings
If we're all so short of time, how come we spend so much time in meetings?
Stop taking time to ponder that question. Instead, start fixing your meetings.
Many of us spend more than half our working time in meetings. Meetings are a necessary business tool, but if you don't take control of them, they can overtake your workday and your life. You're wasting time that you can never recover.
Whether you conduct meetings or attend them, you can start incorporating these seven simple practices. They're all easy and low-to-no cost. However, they take discipline to implement and sustain.
1. Make sure you know the purpose of each of your meetings. Meetings generally fall into three categories:
· To initiate, control or approve work, including check ins
· To build camaraderie, a shared purpose
· To provide something of value to those attending.
You seldom should do real work during meetings, unless the purpose of the group is to solve a problem or develop something.
2. Prepare an agenda for all your meetings. The agenda should clearly state the purpose of the meeting, as well as the items to be covered, the time allocated, and the individual responsible for that part of the agenda. Share the responsibility for preparing agendas among everyone who participates. Consider agenda preparation a development opportunity.
3. Include time on the agenda—preferably at the beginning—for some gratitude. For example, use your time together to celebrate wins, acknowledge successes and reflect on good news that individuals have experienced in their personal or business lives. Sharing some positive news since you last met can give everyone a healthy perspective, which is especially important when you start to tackle the heavy content.
4. Honor stop and start times. And keep meetings short. For staff meetings, strive for no more than 45 minutes. Try to avoid any meetings longer than 90 minutes. People's attention spans start to drop off and you'll need to start taking breaks.
Respect people's time by starting and stopping at your appointed times. Don't fall into the trap of thinking that if you start the meeting 10 or so minutes late that you can end it 10 minutes late. You don't get your full time allotment if you start late. You've got to recognize that some meeting participants have other places to go and things to do.
Also, don't feel you've got to stall the clock and end on time. If you finish early, end early and give meeting participants some of their time back. They'll appreciate the gesture, and remember you for it.
5. Take notes and distribute them to meeting participants. Capture only the action items from the meeting in the notes. Include the timing and the individual (or individuals) responsible for action. Also note who attended. You don't need to summarize all the conversations unless you think you should highlight the topics you discussed for an issue that you've started to work on.
By writing up short, streamlined notes, you can get them out quicker, which is useful to everyone. In fact, strive for releasing meeting notes within 24 hours of the meeting. That way, the memories of the meeting are fresh. And everyone can review the notes quickly and consult them as they prepare their follow up actions.
Consider rotating the responsibility for meeting notes too. Participants should view writing the notes as an important contribution, not as drudgery.
6. Devote some of your meeting time every few meetings to talk about your meeting processes. Also every few meetings, check in with each other to make sure the meetings remain an effective use of time for everyone. You may want to make some tweaks, such as shortening the meeting time, rotating who takes meeting notes, reordering the agenda or whatever will work better.
Also, at the end of each meeting, save a few moments to talk about the meetings' pluses and minuses. Then assign a team member the responsibility for the next meeting to build on the pluses, and reduce or eliminate the minuses.
7. Mix things up to maintain interest and avoid complacency. Change your format, such as bringing in a guest speaker or facilitator. Meet in a different location. If you provide food, alter the menu. Introduce a theme or do pot-luck. If you stir things up every now and then, you'll change people's perceptions in addition to their perspectives. You'll also encourage attendance and participation because people will enjoy the meetings, not view them as a necessary evil.
Good meetings are everyone's responsibility. Life is too short to spend it in bad meetings.
---
© 2009 Liz Guthridge
Labels: communication practices leadership managing and supervising work challenges
<! -- contentContainer -->