Featured Book
Latino Talent
By 2050, Latinos will make up one-quarter of the U.S. population and nearly triple in number to 97 million. For businesses, this demographic shift means a larger Latino consumer market and a growing Latino workforce. Latino Talent presents practical strategies for companies that need help understanding and managing a workforce with an increasingly Latino identity and tapping into a booming Latino consumer market.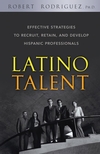 ---
Robert Rodriguez

Robert Rodriguez, PhD, is the Board Chairman of the Hispanic Alliance for Career Enhancement (HACE), a leading national nonprofit dedicated to building Latino careers through leadership and development of Latino students and experienced professionals. He is currently a consultant and a professor at Kaplan University, where he leads the school's Latino leadership development programs.
Contact Information:
Rrodriguez2@kaplan.edu
773-935-2645

Knol
Nowadays, many organizations are finding it difficult to tap into the Latino talent pool because most of them have yet to realize that their traditional recruitment strategies aren't working. Without refining current recruitment efforts and developing customized strategies specifically aimed at Latinos, organizations will continue to employ strategies that are ineffective.
You must be a Premium Member to view this Knol.
If you have an account:
If not, contact us about individual or corporate subscriptions. In the meantime, please create a free account to enjoy our Member-level content.
---
<! -- contentContainer -->