Featured Book
wired and dangerous: how your customers have changed and what to do about it
Customers today are picky, fickle, vocal, and "all about me" vain. They are also empowered and wired. Like it or not, the Internet has tipped the balance of power and forever changed the way customers and organizations interact. A single snarky video or damning review gone viral can bring down an entire company. This book provides a tested formula for transforming today's edgy customers into eager partners.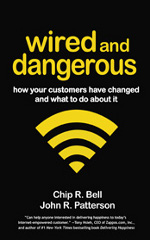 ---
Chip R. Bell

Chip R. Bell is founder and senior partner with The Chip Bell Group and manages their offices near Dallas and Atlanta. Dr. Bell is the author or co-author of several best-selling books including Take Their Breath Away, Magnetic Service, Customers as Partners and Managing Knock Your Socks off Service. His newest best-selling book (with John R. Patterson) is Wired and Dangerous: How Your Customers Have Changed and What to do about it. He has appeared live on CNBC, CNN, ABC, Fox Business Network, Bloomberg TV, NPR and his work has been featured in the Wall Street Journal, Fortune, Entrepreneur, USA Today, Fast Company and Business Week.
Contact Information:
chip@chipbell.com
214-522-5777
www.chipbell.com
Knol
The deep, gravelly voice of Leonard Cohen sings his hit song "Dance Me to the End of Love" to a lingering Hungarian-like melody. A single violin makes the experience haunting. The mystery of the tune matches the romance of the words. Its theme is about keeping a relationship charged with engagement and enrichment coupled with resilience and perseverance in order to honor a long-term commitment. It is not "live with me" or "hang out with me," it is "dance me."
You must be a Premium Member to view this Knol.
If you have an account:
If not, contact us about individual or corporate subscriptions. In the meantime, please create a free account to enjoy our Member-level content.
---
© 2011 Chip R. Bell
Labels: chip bell customer service
<! -- contentContainer -->