Featured Book
The Compromise Trap: How to Thrive at Work Without Selling Your Soul
The Compromise Trap helps you tell the difference between healthy and unhealthy compromise, and build the six personal foundations that allow you to stay true to yourself and be a positive force in your organization.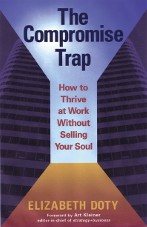 ---
Career Contentment--Don't Settle for Anything Less
Published by ASTD, this best-selling book reveals how to have and enjoy your best career despite circumstances that employers can't always make satisfying. The secret to career fulfillment is deceptively simple—it's not about getting more, but learning how to appreciate what you already have as you continue to work towards what you desire. Experts in medicine, psychology and career say this new topic has been overlooked as your source of emotional resilience and self-motivation, and should birth a revolution in the workplace. This is a must read if you would like to learn how to retain workers and keep them productive despite reductions to budgets used to make them satisfied and engaged.
---
Elizabeth Doty

Elizabeth Doty is a consultant and coach with a passion for helping leaders increase the engagement, alignment and integrity that allow them to generate extraordinary value. Since 1993, her firm WorkLore has helped organizations such as Intuit, Hewlett Packard, CDM Inc, Stanford University, Skillsoft, and Archstone-Smith improve performance by keeping their commitments real. She has presented at Systems Thinking in Action, the Business Ethics Network, and the Bay Area Society for Organizational Learning and assisted Dr. William Ury in research for his book, The Power of a Positive No. Ms. Doty's book, The Compromise Trap: How to Thrive at Work without Selling your Soul was published by Berrett-Koehler in 2009.
Contact Information:
edoty@worklore.com
888-WorkLore
http://www.worklore.com http://www.worklore.com/Blog/
Jeff Garton

Jeff Garton is a career coach, best-selling career author and talk radio host whose background is specialized in talent management and global staffing with the Philip Morris Companies. Located in Chicago, his firm produces and licenses highly innovative learning resources and training programs that develop an employer's contented workforce. Jeff coined the term and published the first book on the new topic of career contentment and the employment mindset to achieve it. He is also the creator of Success Mindset Training: eLearning To Reduce Unemployment, a program helping employment-focused agencies offer a fresh approach to their clients to find their best work. His clients are in North America, Asia and Europe.
Contact Information:
jeffgarton@careercontentment.com
(847) 607-8854
www.careercontentment.com
Knol
It's the holy grail of the modern workplace. It's what employees crave and what their organizations need to flourish. It's the focus of innumerable studies, workshops and white papers. And what is "it"? Engagement: workers caring about what they do and adding value as a result. Research by Gallup and others indicates that key indicators like retention, productivity and significant upticks in the bottom line all come about when engagement is a part of the workspace.
You must be a Premium Member to view this Knol.
If you have an account:
If not, contact us about individual or corporate subscriptions. In the meantime, please create a free account to enjoy our Member-level content.
---
Labels: elizabeth doty leadership consultant coach the compromise trap
<! -- contentContainer -->