Featured Book
The Blind Men and the Elephant: Mastering Project Work
Using the fable of the blind men failing to describe an elephant to each other, David Schmaltz identifies the most common root cause of project failure: incoherence - the inability of a group of people to make common meaning from their common experience. He provides a set of simple techniques that anyone can use to encourage project coherence and transform their "wicked project fuzziness" into personally meaningful results. The Blind Men and the Elephant explores just how much influence you command and undermines the most common excuses that keep people trapped in meaningless pursuits. It offers practical advice for overcoming the inevitable difficulties of project work.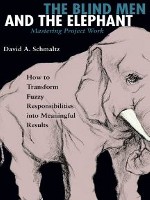 ---
David Schmaltz

David A. Schmaltz is the author of The Blind men and the Elephant-Mastering Project Work-How To Transform Fuzzy Responsibilities Into Meaningful Results (Berrett-Koehler 2003) and the principle contributor to the PureSchmaltz blog. David is a Brief Consultant® who consults with his eyes open and his mouth pretty firmly shut.
Contact Information:
david@projectcommunity.com
503-805-9135
http://www.projectcommunity.com http://www.pureschmaltz.com
Knol
Giving Good Advice stands near the top of the list of 'things that don't work even though we really wish they would.' Everyone from the loftiest Capital C-level executive down to the lowliest lowercase z-level file clerk knows that giving good advice doesn't work, yet the population of advice-givers burgeons along with the demand for their so-called services.
You must be a Premium Member to view this Knol.
If you have an account:
If not, contact us about individual or corporate subscriptions. In the meantime, please create a free account to enjoy our Member-level content.
---
© 2010 David Schmaltz
<! -- contentContainer -->