Featured Book
Effective Apology: mending fences, building bridges, and restoring trust
Effective Apology is a survival guide for all of us who find a need to apologize in our business or professional work, either for ourselves or for our organizations. The news is flooded with stories of people apologizing. But we don't need more apologies, says author John Kadorwe, we need better ones. Too many people miss tapping into the transformative power of apology to restore strained relationships, create possibilities for growth, and generate better outcomes for all. Kador uses over seventy examples of good and bad apologies, drawn from the news, popular culture, and our own experiences, to show how to make apology work in the real worldwhen and how to apologize, in what medium, and how to make it stick.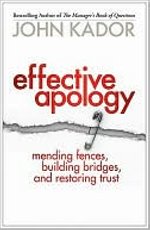 ---
John Kador

John Kador is an author, consultant, and speaker who believes that every word is a moral choice. His work centers on identifying and describing best practices in leadership and promoting the highest standards of personal accountability, humility and transparency.
John has been a corporate ghost writer on over 100 titles and has written several under his own name including Effective Apology: mending fences, building bridges and restoring trust, and the New York Times best seller, Net Ready: Strategies for success in the E-conomy.
Contact Information:
jkador@jkador.com
http://www.effectiveapology.com
Knol
"I'm sorry."
You must be a Premium Member to view this Knol.
If you have an account:
If not, contact us about individual or corporate subscriptions. In the meantime, please create a free account to enjoy our Member-level content.
---
© 2009 John Kador
Labels: communication practices success factors work challenges
<! -- contentContainer -->