Featured Book
Know Can Do!: Put Your Know-How into Action
In this new book Blanchard and his coauthors, Paul J. Meyer and Dick Ruhe, use the fable format Blanchard made famous to lay out a straightforward method for learning more, learning better, and making sure you actually use what you learn. This engaging story identifies three key reasons people don't make the leap from knowing to doing and then moves on to the solution.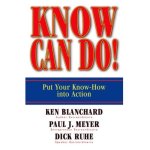 ---
Ken Blanchard
Ken Blanchard is Chief Spiritual Officer of the Ken Blanchard Companies. He is the author or coauthor of more than forty books, including the classic, The One Minute Manager(R) (with Spencer Johnson), Leading at a Higher Level, Full Steam Ahead! (with Jesse Stoner), and The Secret (with Mark Miller).
Contact Information:
(800) 728-6000
http://www.kenblanchard.com
Knol
We have a crisis in our training and development field. What we teach is seldom practiced or used. People today know a lot more about leadership and management than anyone ever sees. The gap between knowing and doing is probably wider than the gap between ignorance and knowledge. This bothered me for a long time, until I recently learned about the missing link—repetition, repetition, repetition.
You must be a Premium Member to view this Knol.
If you have an account:
If not, contact us about individual or corporate subscriptions. In the meantime, please create a free account to enjoy our Member-level content.
---
Labels: communication practices personal & career development success factors
<! -- contentContainer -->