Featured Book
Words at Work: Powerful business writing delivers increased sales, improved results, and even a promotion or two
Winner of the 2009 USA Book News National Best Books Award in the category of writing/publishing. Lynda McDaniel captures every technique, tool, and trick of the trade she's gleaned from her 25+ year career as a writer and writing coach. She has helped hundreds of people learn to write like the professionals they are, and has compiled all that experience into Words @ Work so that anyone can get the attention—and results—they deserve.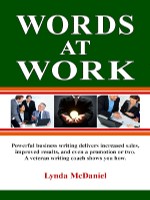 ---
Lynda McDaniel

Lynda McDaniel is the director of the Association for Creative Business Writing and the author of five books. Her latest book, Words at Work: Powerful business writing delivers increased sales, improved results, and even a promotion or two, draws on personal experiences from her 25-year writing and coaching career to help others increase their confidence and catapult their creativity.
National and regional clients include DuPont, Kennedy Center for the Performing Arts, City of Seattle, First Choice Health, U.S. Small Business Administration, and the University of Washington. Her long career as a journalist includes feature articles for magazines and newspapers such as Southern Living, Country Living, Yoga Journal, Law & Politics, Associations Now, American Cinematographer, AmericanStyle, guideposts.com, and washingtonpost.com.
Contact Information:
director@afcbw.com
(925) 465-1831
www.lyndamcdaniel.com
Knol
Following are four ways to use storytelling on the job. Good business writing is so much more than stringing words together. It's about engaging your readers and sharing benefits in ways that get the results you both want. One of the best ways to achieve that is telling tales. That's right—telling stories at work. We've grown so accustomed to dry, just-the-facts-ma'am documents that we we've forgotten how much stories can enliven our messages. Stories captivate us and appeal to our emotions, which is what makes us buy. Not selling anything? Think again. Everything we write at work is a sales piece of some kind. Following are four ways for telling stories on the job.
You must be a Member to view this Knol.
If you have an account:
If not, register for NetSpeed Fast Tracks now. It's free.
---
© 2009 Lynda McDaniel
<! -- contentContainer -->