Featured Book
Bootstrap Leadership: 50 ways to break out, take charge, and move up
In Bootstrap Leadership Steve Arneson, one of America's top leadership coaches, offers a complete blueprint for designing your own personal leadership development program. In fifty brief, to-the-point chapters he provides practical ideas and techniques that have been proven successful in his work with executives at Fortune 500 companies like AOL, PepsiCo and Capital One. Surprisingly, most of these ideas cost nothing to implement, nor do they require any elaborate equipment or infrastructure—they're open to anyone with sufficient initiative, drive and ambition.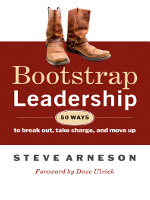 ---
Steve Arneson

Steve Arneson founded Arneson Leadership Consulting in 2007 to provide executive talent management, coaching, and leadership development solutions to corporations and non-profit organizations.
Steve has a passion for helping leaders reach their full potential. He was named one of America's Top 100 thought leaders on leadership for 2008, 2009 and 2010 and one of the country's Top 25 leadership coaches for 2008 & 2009 by Leadership Excellence magazine.
Dr. Arneson speaks regularly on the topic of leadership to corporate groups and conference audiences, writes a national weekly leadership column at leadershipexaminer.com, and is the author of Bootstrap Leadership: 50 Ways to Break Out, Take Charge, and Move Up, a book about leadership self-development.
Contact Information:
steve@arnesonleadership.com
571-334-9605
http://www.arnesonleadership.com
Knol
As a leader, you have the potential to improve – but you have to work at it. You have to want to get better if you're going to become a more effective leader. Why is this important? Because as a leader, you have an opportunity to help your people grow and develop. But to positively impact others, you have to be willing to keep learning and growing yourself. You have to model working on your own development.
You must be a Premium Member to view this Knol.
If you have an account:
If not, contact us about individual or corporate subscriptions. In the meantime, please create a free account to enjoy our Member-level content.
---
© 2010 Steve Arneson
Labels: bootstrap leadership leadership consulting steve arneson
<! -- contentContainer -->