Featured Book
The Secrets of Facilitation: The S.M.A.R.T Guide to Getting Results with Groups
The Secrets of Facilitation reveals the principles and techniques effective facilitators use to produce amazing results through groups. The author identifies 60 secrets that separate great facilitators from good ones. He then puts you right in the room through his case studies and numerous sample dialogues, so you can see and experience the techniques in action!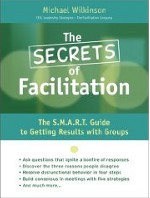 ---
Michael Wilkinson

Michael Wilkinson is the founder and Managing Director of Leadership Strategies, Inc. – The Facilitation Company. His unique passion for practical, dynamic and interactive facilitation practice forms the core of the company's results-driven mission. Mr. Wilkinson is author of the best-seller The Secrets of Facilitation, The Secrets to Masterful Meetings, and Buying Styles, and is one of the nation's recognized leaders in the facilitation industry. He is a Board member of the National Institute for Facilitation and founder of the National Facilitator Database. He has been awarded both the Certified Professional Facilitator and the Certified Master Facilitator designations for experience and demonstrated expertise in facilitation. In 2003 he was named Facilitator of the Year by the Southeast Association of Facilitators for contributions to the field.
Contact Information:
800.824.2850
http://leadstrat.com
Knol
What is it that separates great facilitators from good ones? Sure, every facilitator needs to know about establishing ground rules, using the appropriate tools and maintaining a safe environment. But are there a set of skills that seem to distinguish the best facilitators from the rest of the pack?
We say, "Yes!" As facilitators and facilitation trainers, we have had the opportunity to work with and train over 12,000 facilitators since releasing our training class The Effective Facilitator in 1993. While some facilitators were beginners, most were experienced, and many were very experienced. It is through working with this wide variation in proficiency that we have identified what we believe are The Seven Separators - the key skills that seem to separate the top facilitators from the average ones.
It takes numerous skills to be a great facilitator. But for facilitators who are already good at the mechanics and are seeking to increase their facilitation excellence, we recommend that they focus on these seven skill areas.
You must be a Premium Member to view this Knol.
If you have an account:
If not, contact us about individual or corporate subscriptions. In the meantime, please create a free account to enjoy our Member-level content.
---
© 2009 Michael Wilkinson
Labels: communication practices
<! -- contentContainer -->