Featured Book
Driving Fear Out of the Workplace: Creating the High-Trust, High-Performance Organization
Advances in technology, new employee/employer relations, and the corporate push to optimize intellectual capital have introduced a host of new workplace anxieties that, left unaddressed, can seriously inhibit individual performance and cripple a company's ability to compete. Which is why, in this revised edition, authors Ryan and Oestreich revisit their original, best-selling work to confront the fears that permeate today's organizations—so that they can become the high-trust, high-performance organizations of tomorrow.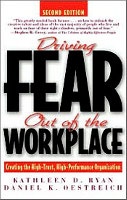 ---
Kathleen Ryan

Kathleen D. Ryan has practiced organization development since 1984 through The Orion Partnership. Identified as "an organizational consultant with "an instinct for translating complex human behavior into practical concepts," her work focuses on executive coaching and on-boarding and culture change. She serves on the Board of Directors for Seattle University's Master's degree program in Organization Design and Renewal and is a co-founder of the Community Consulting Project. She is co-author, with Daniel Oestreich, of Driving Fear Out of the Workplace: Creating the High-Trust, High-Performance Organization, second edition (Jossey-Bass, 1998) and The Courageous Messenger : How to Successfully Speak Up at Work (Jossey-Bass, 1996) co-authored with Daniel Oestreich and George Orr. Extraordinary Groups: How Ordinary Teams Achieve Amazing Results (Jossey-Bass, 2009), co-authored with Geoffrey Bellman, is her latest book. She has an extensive list of clients in health care, government, technology, and philanthropy.
Contact Information:
http://www.orionpartnership.com
Knol
There's no question that our current economy inspires worry, fear, and cynicism which can trigger a well-known pattern of self-protection. While understandable, this behavior is a poor choice for surviving tough times. Especially at work. This is true regardless of role, whether you are in front line, management, or executive positions. After twenty years of studying the workplace dynamics of fear, trust, collaboration, and high performance, here are some observations and suggestions.
You must be a Premium Member to view this Knol.
If you have an account:
If not, contact us about individual or corporate subscriptions. In the meantime, please create a free account to enjoy our Member-level content.
---
© 2010 Kathleen D. Ryan
Labels: personal & career development success factors work challenges
<! -- contentContainer -->