Featured Book
The Silent Language of Leaders: How Body Language Can Help - or Hurt - How You Lead
Body language is the management of time, space, appearance, posture, gesture, vocal prosody, touch, facial expression, and eye contact. Based on the latest research in neuroscience and psychology we can now prove that body language is crucial to leadership effectiveness – and Carol Kinsey Goman's latest book will show you exactly how it impacts a leader's ability to negotiate, manage change, build trust, project charisma, and promote collaboration.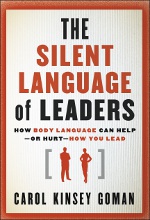 ---
Carol Kinsey Goman

Carol Kinsey Goman, Ph.D., is an executive coach, author and keynote speaker who addresses association, government, and business audiences around the world. Her latest book and program topic is THE SILENT LANGUAGE OF LEADERS: How Body Language Can Help - or Hurt - How You Lead.
Contact Information:
CGoman@CKG.com
510-526-1727
http://www.SilentLanguageOfLeaders.com
Knol
Your nonverbal signals don't always convey what you intended them to. In fact, when people read your body language, you can count on them making five major mistakes.
You must be a Premium Member to view this Knol.
If you have an account:
If not, contact us about individual or corporate subscriptions. In the meantime, please create a free account to enjoy our Member-level content.
---
© 2011 Carol Kinsey Goman
Labels: body language carol kinsey goman
<! -- contentContainer -->