Featured Book
The Voice of Authority: 10 Communication Strategies Every Leader Needs to Know
Would you like to compel others to act? Command more attention for your ideas? Communicate as a respected leader? In The Voice of Authority, communications guru and bestselling author Dianna Booher shares her proven secrets of communication-powerful guidelines that have worked for some of the largest corporations in the world.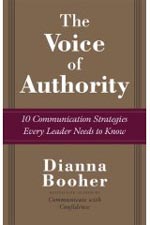 ---
Dianna Booher

Dianna Booher, CSP, CPAE, works with organizations to increase their productivity and effectiveness through better oral, written, interpersonal, and cross-functional communication. A prolific author of 43 books, including her latest The Voice of Authority: 10 Communication Strategies Every Leader Needs to Know, she has published with Random House, Simon & Schuster/Pocket Books, and McGraw-Hill. An acclaimed international speaker and business communication expert, she is also CEO of Booher Consultants, Inc., a communication training firm serving many Fortune 500 clients. Major media such as Good Morning America, CNN, USA Today, The Wall Street Journal, The New York Times, and NPR have interviewed her for critical opinions on workplace communication, and Successful Meetings magazine has named her to its list of the "21 Top Speakers for the 21st Century."
Contact Information:
mailroom@booher.com
817-318-6000
http://www.BooherDirect.com http://www.BohherBanter.typepad.com
Knol
Stage fright often begins long before a performer takes the stage. For most of us, the condition sets in the moment we accept an invitation to make a presentation. And generally, the longer we have to anticipate the event, the more prolonged and severe the symptoms.
You must be a Premium Member to view this Knol.
If you have an account:
If not, contact us about individual or corporate subscriptions. In the meantime, please create a free account to enjoy our Member-level content.
---
Labels: communication practices personal & career development success factors
<! -- contentContainer -->