Featured Book
Lean Communications
Lean Communications: The 5-Step System for Doing More With Less and Getting Great Results is designed to provide you an overview of LEAN Communications as well as helpful tips, tricks and tools.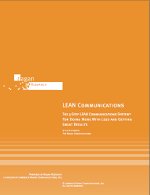 ---
Liz Guthridge

Liz Guthridge of Connect Consulting Group works with department leaders of Fortune 1000 companies to get employees on board with change. As a consultant, author and trainer, she helps leaders communicate clearly and credibly to get employees—especially those who are confused, angry, or in denial—involved and committed to action. As a result, employees accept the change with renewed energy and optimism. And leaders achieve their goals without the drama, delays, and distress so often associated with change. Liz's work is built on LEAN COMMUNICATIONS® practices and principles, which is the art and science of doing more with less to improve business results and build greater trust.
Contact Information:
liz.guthridge@connectconsultinggroup.com
510.527.1213
http://connectconsultinggroup.com
Knol
If we're all so short of time, how come we spend so much time in meetings?
You must be a Premium Member to view this Knol.
If you have an account:
If not, contact us about individual or corporate subscriptions. In the meantime, please create a free account to enjoy our Member-level content.
---
© 2009 Liz Guthridge
Labels: communication practices leadership managing and supervising work challenges
<! -- contentContainer -->