Featured Book
How to Get Ideas
Having spent 40 years in advertising and coming up with new ideas every day, the author shows readers seven ways to condition the mind to produce ideas and four subsequent steps for creating ideas on command.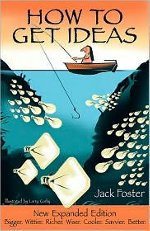 ---
Jack Foster

Jack Foster is author of How to Get Ideas, a selection of both the Money Book Club and the Book of the Month Club. For thirty-five years he worked in the creative departments of major advertising agencies—the first ten as a writer, the last twenty-five as a creative director. Foster has helped others generate hundreds of ideas for scores of companies, including Sunkist, Mazda, Carnation, Mattel, ARCO, Ore-Ida, Suzuki, Albertson's, Denny's, Rand McNally, and Smokey Bear. During his tenure as executive creative director of Foote, Cone & Belding in Los Angeles, it grew to be the largest advertising agency on the West Coast.
Contact Information:
JackFoster@aol.com

Knol
Nobody understands (yet) how your brain—a physical thing—can produce an idea—something that is not physical. All we know is that it happens. Perhaps it happens to you less often than to other people, but since it has happened to you a few times we know that there's no physical deficiency—no genetic mutation in your brain for example—that's preventing you from getting ideas. You can get them. That's proven. So the only things we have to figure out is why you're getting too few of them and to work on getting more of them.
You must be a Premium Member to view this Knol.
If you have an account:
If not, contact us about individual or corporate subscriptions. In the meantime, please create a free account to enjoy our Member-level content.
---
© 2008 Jack Foster
Labels: success factors work challenges
<! -- contentContainer -->