Cynthia Clay

Knol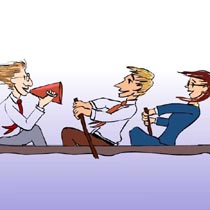 The Gallup Organization surveyed 200,000 individuals in 36 organizations, across 21 industries about their level of engagement. Only 29% of employees reported that they were engaged or highly engaged at work. An astounding 55% reported that they were not engaged (think of their attitude as "wait-and-see") and an even more revealing 16% reported that they were actively disengaged (think of behavior such as complaining, arguing and actively sabotaging the organization's efforts).
The same research reveals that employees often join organizations feeling highly engaged. After more than a year on the job, however, the employee often feels less engaged. In fact the longer they hold the job, the less engaged they tend to be. So what's happening here?
You must be a Premium Member to view this Knol.
If you have an account:
If not, contact us about individual or corporate subscriptions. In the meantime, please create a free account to enjoy our Member-level content.
---
Labels: delegating smartly leadership managing and supervising personal & career development
<! -- contentContainer -->