Featured Book
The Silent Language of Leaders: How Body Language Can Help - or Hurt - How You Lead
Body language is the management of time, space, appearance, posture, gesture, vocal prosody, touch, facial expression, and eye contact. Based on the latest research in neuroscience and psychology we can now prove that body language is crucial to leadership effectiveness – and Carol Kinsey Goman's latest book will show you exactly how it impacts a leader's ability to negotiate, manage change, build trust, project charisma, and promote collaboration.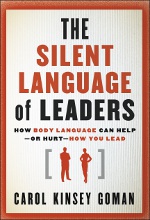 ---
Carol Kinsey Goman

Carol Kinsey Goman, Ph.D., is an executive coach, author and keynote speaker who addresses association, government, and business audiences around the world. Her latest book and program topic is THE SILENT LANGUAGE OF LEADERS: How Body Language Can Help - or Hurt - How You Lead.
Contact Information:
CGoman@CKG.com
510-526-1727
http://www.SilentLanguageOfLeaders.com
Knol
Recently I addressed a leadership group about the importance of nonverbal communication in business. All of the senior managers actively participated in the session, asking questions and volunteering for various demonstrations. Everyone seemed genuinely interested in the topic. Everyone, that is, except one woman who sat for the entire time with her shoulders rounded, chin tucked in, and torso twisted slightly toward the exit. At the end of the program she said, "I really didn't want to be here today." But of course, I already knew that. And so did everyone else in the room. The woman's body had been shouting out her discomfort all morning.
You must be a Premium Member to view this Knol.
If you have an account:
If not, contact us about individual or corporate subscriptions. In the meantime, please create a free account to enjoy our Member-level content.
---
© 2010 Carol Goman
<! -- contentContainer -->