Featured Book
Make Their Day: Employee Recognition That Works
Make Their Day! makes the manager's job easier by showing how effective employee recognition creates a more motivated workforce. It goes beyond the superficial to discover what employees really want, and offers low-cost strategies for offering employee recognition that really works.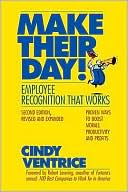 ---
Cindy Ventrice
Employee recognition expert Cindy Ventrice is a management consultant and workshop leader with over 20 years of experience. Through her company, Potential Unlimited, she helps organizations improve performance by improving work relationships.
Cindy's consulting and coaching practice focuses on helping organizations improve operations, products, and services by improving workplace relationships and employee morale through effective employee recognition programs and leadership training. She still works with organizations in both the public and private sectors, teaching managers and supervisors how to improve loyalty and productivity with employee recognition, and offering workshops for administrators on how to develop great employee recognition programs. A frequent keynote speaker, she addresses audiences on issues ranging from motivating volunteers to retaining the best employees and keeping them happy and productive. Cindy is also an active member of the National Speakers Association and currently serves on the board of the Northern California Chapter.
Contact Information:
cventrice@maketheirday.com
831-476-4224
http://www.maketheirday.com
Knol
Engaging your team can be tricky especially during a crisis or major change (which seems to be most of the time, doesn't it?). What makes it more difficult is that as a team lead you don't have much discretionary time to spend on morale. You need ways to engage that don't consume your time. The seven tips listed here take only a few minutes each. Try them. The results will be worth your while.
You must be a Member to view this Knol.
If you have an account:
If not, register for NetSpeed Fast Tracks now. It's free.
---
© 2009 Cindy Ventrice
Labels: communication practices leadership success factors transition to management
<! -- contentContainer -->