Featured Book
The Compromise Trap: How to Thrive at Work Without Selling Your Soul
The Compromise Trap helps you tell the difference between healthy and unhealthy compromise, and build the six personal foundations that allow you to stay true to yourself and be a positive force in your organization.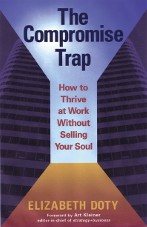 ---
Elizabeth Doty

Elizabeth Doty is a consultant and coach with a passion for helping leaders increase the engagement, alignment and integrity that allow them to generate extraordinary value. Since 1993, her firm WorkLore has helped organizations such as Intuit, Hewlett Packard, CDM Inc, Stanford University, Skillsoft, and Archstone-Smith improve performance by keeping their commitments real. She has presented at Systems Thinking in Action, the Business Ethics Network, and the Bay Area Society for Organizational Learning and assisted Dr. William Ury in research for his book, The Power of a Positive No. Ms. Doty's book, The Compromise Trap: How to Thrive at Work without Selling your Soul was published by Berrett-Koehler in 2009.
Contact Information:
edoty@worklore.com
888-WorkLore
http://www.worklore.com http://www.worklore.com/Blog/
Knol
There are certain words that are used so often and so vaguely that they can mean almost anything. "Teamwork" is clearly one of those words… and "synergy" is another. Some of you may remember the film In Good Company, where cut-throat tycoon Teddy K. (played by Malcolm McDowell), speaking after a series of arbitrary layoffs, folds his hands together almost like a priest and incants the mystical virtues of synergy. No wonder they banned the word in my business school classes! It's just too easy to lump all the goodness of coordination under that one umbrella term without being clear about it.
You must be a Premium Member to view this Knol.
If you have an account:
If not, contact us about individual or corporate subscriptions. In the meantime, please create a free account to enjoy our Member-level content.
---
© 2009 Elizabeth Doty
Labels: communication practices managing and supervising success factors
<! -- contentContainer -->