Featured Book
Glow: How you can radiate energy, innovation and success
Work is how we increasingly define ourselves as people: it's what we spend the majority of our lives engaged in and each one of us deserves to live a fulfilling work life. We can do this by Glowing: by radiating positive energy that fosters a great working experience, and that excites and ignites others through our own inspiration, and delivers superior value through our work.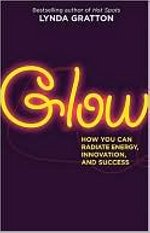 ---
Lynda Gratton

Lynda Gratton is a professor at London Business School and bestselling author of 'Hot Spots: why some teams, workplaces and organisations buzz with energy and others don't'
Contact Information:
lgratton@london.edu
http://www.hotspotsmovement.com
Knol
In times of recession and job uncertainty, it is more important than ever that each one of us can prove their worth to our employer. Whether we like it or not, it is survival of the brightest, and team members that can match earning potential with creativity, and who also work well in a team, who will survive job cuts.
You must be a Premium Member to view this Knol.
If you have an account:
If not, contact us about individual or corporate subscriptions. In the meantime, please create a free account to enjoy our Member-level content.
---
© 2009 Lynda Gratton
Labels: communication practices personal & career development success factors
<! -- contentContainer -->