Featured Book
Big Vision, Small Business: 4 Keys to Success Without Growing Big
Not merely a how-to on running a small business, Big Vision, Small Business provides a thoughtful, thorough analysis of the advantages of the strong, small enterprise and strategies for creating, growing, and sustaining one.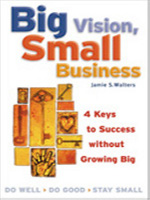 ---
Jamie Walters

Jamie Walters is the founder of Ivy Sea, and works with clients in large and small organizations to clarify vision, strengthen communication, and tap their authenticity, creativity, and intuition for greater effectiveness and meaning at work. She is also the author of Big Vision, Small Business and Leading at the Visionary Edge.
Contact Information:
info@ivysea.com
http://www.ivysea.com
Knol
"The intellect has little to do on the road to discovery. There comes a leap in consciousness, call it Intuition or what you will, the solution comes to you and you don't know how or why." ~ Albert Einstein
You must be a Premium Member to view this Knol.
If you have an account:
If not, contact us about individual or corporate subscriptions. In the meantime, please create a free account to enjoy our Member-level content.
---
Labels: success factors work challenges
<! -- contentContainer -->