Lynn Gaertner-Johnston

Lynn Gaertner-Johnston founded Syntax Training, whose mission is to help employees and managers write better. Syntax Training courses provide participants with tools, tips, strategies, skill practice, feedback, and job aids to help them write better, guaranteed. To receive a free newsletter focusing on a special writing topic each month, subscribe at http://syntaxtraining.com.
Contact Information:
lynng@syntaxtraining.com
206-782-8410
http://www.syntaxtraining.com http://www.businesswritingblog.com
Knol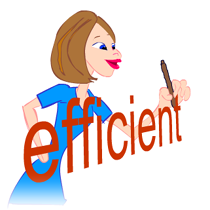 People who attend our business writing classes often have this goal: to write faster. They want to be more productive by cutting the time it takes to write.
It's an admirable goal. But more than speed, effective writing is the key to increased productivity. When our writing is effective, it gets results: our readers respond the way we intend.
Fortunately, certain writing techniques increase both speed and effectiveness. Here are seven ways to write more productively.
You must be a Premium Member to view this Knol.
If you have an account:
If not, contact us about individual or corporate subscriptions. In the meantime, please create a free account to enjoy our Member-level content.
---
Labels: communication practices personal & career development success factors
<! -- contentContainer -->