Featured Book
The Introverted Leader: Building on Your Quiet Strength
Jennifer B. Kahnweiler, Ph.D. lays out a progressive 4-step strategy for succeeding in an extroverted world: Preparation, Presence, Push and Practice. Includes a unique Introverted Leader Quiz and is filled with inspiring personal stories.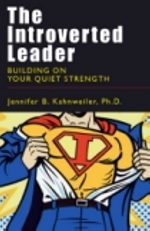 ---
Jennifer Kahnweiler, Ph.D.

Dr. Jennifer B. Kahnweiler helps build strong leaders through her highly engaging speaking, training and coaching programs. Called "The down to earth Ph.D." Jennifer specializes in translating leadership theories into practical approaches and has successfully done this with thousands of professionals.
Dr. Kahnweiler has had key assignments at such companies as Capital One, GE, Turner Broadcasting, The U.S. Department of Education, The Coca-Cola Company and AT&T. The American Management Association termed her a "world class expert." Jennifer has also consulted in Tokyo with Japanese businesswomen and in Great Britain with senior HR professionals
Contact Information:
info@aboutyouinc.com
(770) 399-6083
http://www.aboutyouinc.com http://www.theintrovertedleaderblog.com
Knol
We all can smile more. Hokey, you say? Consider the story of Nelson Mandela, the great South African leader. Apparently, he was a pretty dull speaker. What he did consistently in every setting was break out his huge smile. This symbolized his lack of bitterness toward white South Africans and communicated hope and triumph to black voters. Mandela's smile was his message.
You must be a Premium Member to view this Knol.
If you have an account:
If not, contact us about individual or corporate subscriptions. In the meantime, please create a free account to enjoy our Member-level content.
---
© 2010 Jennifer Kahnweiler
<! -- contentContainer -->