Featured Book
The Nonverbal Advantage
The workplace is a "blink" world studies show we form opinions of one another within 7 seconds of meeting, and that 93% of the message people receive from us has nothing to do with what we actually say. So good nonverbal communication skills are a huge professional advantage. Carol Kinsey Goman combines the latest research and her 25 years of practical experience as a consultant, coach and therapist to offer a fun and practical guide to understanding what we and the people we work with are saying without speaking, Goman writes in an informal, conversational tone, illustrating her points with cartoons, photos and anecdotes, and she includes dozens of simple and enlightening exercises readers can practice to gain control over the message their body is sending. The Nonverbal Advantage will help readers communicate far more effectively, understand those around them more completely, and project a more accurate picture of who they really are to their colleagues, clients and partners.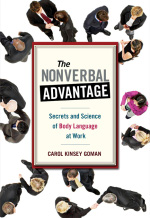 ---
Carol Kinsey Goman

Carol Kinsey Goman, Ph.D., is an executive coach, author and keynote speaker who addresses association, government, and business audiences around the world. Her latest book and program topic is THE SILENT LANGUAGE OF LEADERS: How Body Language Can Help - or Hurt - How You Lead.
Contact Information:
CGoman@CKG.com
510-526-1727
http://www.SilentLanguageOfLeaders.com
Knol
You're at a business conference and you turn to the stranger standing next to you. He turns to face you and in that instant your brain makes a thousand computations. Is he someone to approach or to avoid? Should you flee or be friendly? Will he harm you or help you?
You must be a Member to view this Knol.
If you have an account:
If not, register for NetSpeed Fast Tracks now. It's free.
---
© 2008 Carol Goman
Labels: body language carol kinsey goman
<! -- contentContainer -->