Featured Book
The Training Physical: Diagnose, Treat and Cure Your Training Department
Ultimately, every organization should be reviewing the condition of every department that participates in the workings of their business. The Training Physical is all about evaluating the condition of the training department (Diagnose), recommending action plans (Treatment) and making training responsive (Cure) to the needs of the company. Learn more about The Training Physical at: www.thetrainingphysical.com.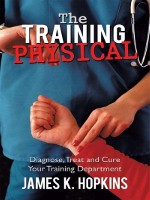 ---
Jim Hopkins

In 1990, Jim Hopkins made the leap from a 12 year retail banking career to the role of a Trainer/Facilitator. From there he progressed to an Instructional Designer, Performance Consultant, Training Manager, Director and then, Chief Learning Officer. Yet, after all this, he's still a trainer at heart.
While leading training functions, Jim has orchestrated large-scale initiatives focusing on business objectives, and with the precision of a conductor allowed teams of training professionals to express their full capabilities. A devotee of Servant Leadership, Jim insists that his role is always to remove barriers to success, and allow people to become empowered.
While leadership development remains one of Jim's primary passions, it was before the writing of his book even began that it occurred to him that his entire life seemed devoted to fixing things. He prides himself on identifying issues early, analyzing them, and then being as proactive as humanly possible to make things right.
Contact Information:
jim@jkhopkinsconsulting.com
(562) 943-5776
www.jkhopkinsconsulting.com
Knol
Have you ever noticed a particular training project showing up each year as the top priority, and it looks like last year's training program, and maybe even the one from the year before that? When training priorities don't change from year to year, but they remain on the project list of the training plan it speaks volumes. It tells us that these are still vital skills that our employees need to acquire, and that for one reason or another, we have still not implemented the training.
You must be a Member to view this Knol.
If you have an account:
If not, register for NetSpeed Fast Tracks now. It's free.
---
© 2010 Jim Hopkins
Labels: success factors work challenges
<! -- contentContainer -->