Lynda Silsbee

Lynda Silsbee, B.A., specializes in human performance improvement, leadership and team development, performance management systems, and process improvement. Her diverse industry experience includes 21 years working with companies like Nordstrom, Genie Industries, and Vulcan Northwest.
Lynda is on the board of the Society of Human Resource Management--Seattle, is a certified Senior Professional in Human Resources, and serves as an adjunct faculty member of Seattle Pacific University in the Human Performance Improvement program. She is a gifted and natural human developer who keeps an eye on the strategic mission of her clients, while empathizing with employee needs.
Contact Information:
info@pdgroup.net
425.889.5942
http://www.pdgroup.net
Knol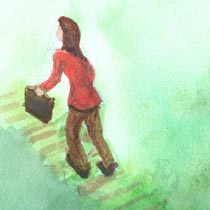 Motivation can be a pretty vague word. Maybe that's because, fundamentally, change must come from within — it's not something a manager can do "to" an employee. Every employee has needs. Some just want to do a good job and go home happy. Others want to earn as much money as possible. In this article, we discuss how to build team behavior and assign the right person to a job.
You must be a Premium Member to view this Knol.
If you have an account:
If not, contact us about individual or corporate subscriptions. In the meantime, please create a free account to enjoy our Member-level content.
---
Labels: communication practices leadership managing and supervising personal & career development success factors
<! -- contentContainer -->