Featured Book
Be Your Own Brand
The science of brand building is typically identified with business products and services, but this book explains how personal and professional relationships can also be seen—and managed—in this very practical light.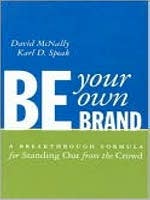 ---
Karl Speak
Karl D. Speak is a global expert known for his pragmatic and unconventional approach to using brand as a leadership platform for gaining customer loyalty and employee engagement. Karl's innovative work on personal brand and internal brand building has been implemented in companies across the globe. His best selling book, Be Your Own Brand is translated into 10 different languages and has sold over 50,000 copies.
Through Brand Tool Box, the company he founded in 1984, Karl has implemented his contemporary approach to brand and internal brand building with a wide range of corporate clients including: 3M, American Express, AT&T, IBM and The Wall Street Journal.
Karl holds a Masters Degree in Economics from the University of Minnesota. He has taught in the MBA programs at universities around the world. He got his "real world" experience in numerous marketing and sales positions with Cargill, Schlitz Brewing Company, CPC International, and Control Data.
Contact Information:
Speakk@brandtoolbox.com
612-338-5009
http://www.brandtoolbox.com
Knol
Using the concepts from Be Your Own Brand, a best-selling book I co-authored, our firm has trained thousands of individuals to use the power of an authentic personal brand to become a more effective leader by building healthy and productive relationships. This is the first in a series of knols where I will provide you with insights to use the practical concepts of authentic personal brand to become a more effective leader. There are five fundamental concepts to understanding the authentic personal brand framework:
You must be a Member to view this Knol.
If you have an account:
If not, register for NetSpeed Fast Tracks now. It's free.
---
© 2009 Brand Tool Box, Ltd.
Labels: communication practices personal & career development success factors
<! -- contentContainer -->